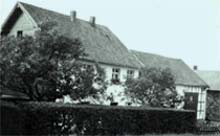 Born in Rollesbroich in the German Eifel on November 28, 1852, Helena Stollenwerk was baptized the following day. Already as a young child she felt called to missionary work, inspired by the annuals of the Holy childhood Association (now Papal Work for Children). At the same time she had an inclination towards adoration and contemplation. The sense of this two-fold vocation was a source of joy and spirit of self-giving. At the age of ten she became a promoter of the Holy Childhood Association. She maintained the task for twenty years, until she entered in Steyl. The Association annuals were her "window on the world", through which the plight of children, especially in China, filled her with concern and missionary longing. A further source of nourishment for Helena's vocation was the Eucharist.
Helena searched for a religious order with foundations in China but found none. In addition, the Kulturkampf forced many congregations to close their German houses and seek possibilities for life and apostolic activity in other countries. She needed a great deal of patience. Tirelessly, she continued to search for an order where she could fulfill her missionary vocation.
In 1882 she came into contact with Arnold Janssen who had founded his mission institute in Steyl. At the end of December that year she went to Steyl, although there was no women's congregation as yet. Arnold Janssen was still struggling with difficulties of the mission house for men, founded in September 1875. Although he was thinking of founding a women's institute, and said as much in his conversation with Helena, he could not make any promises.
Trusting in God, however, and filled with the longing to be sent to China as a missionary, Helena left her home and her inheritance to take a place on the lowest rung of the social ladder. A mature woman of 30, she worked as a kitchen maid in the mission house of the Society of the Divine Word.
It turned out to be a long period of waiting, a true desert experience, during which her vocation became clearer and firmer. She persevered there for a full seven years, doing the lowliest and heaviest work, accompanied by three other women who, like her, were hoping for the fulfillment of their missionary vocation.
Finally on December 8, 1889, the mission congregation of the Servants of the Holy Spirit was founded. The "kitchen maids" became postulants and after some time began their novitiate. There was no experienced guide available, so Arnold Janssen asked Sr. Maria, as Helena was now called, to be novice directress, although she was still a novice herself. At the same time, she had the responsibility for the entire community. In March 1894, she took vows.
In November 1895 the first missionary sisters were sent to Argentina, in 1897 another group left for Togo. Sr. Maria prepared the sisters for their departure but she herself was not sent out. Gradually, the recognition matured that she was called to be co-foundress of the congregation and her place was in Steyl. China, however, continued to hold first place in her missionary heart. As she grew older, her second vocation became stronger, namely to contemplation and adoration. When the cloistered adoration sisters were founded on December 8, 1896, she hoped to be among them. But an adverse situation prevented the fulfillment of that wish and she remained as "mother" and spiritual companion of the missionary sisters. She dedicated herself totally to that task, cultivating in her sisters the fire of love and the mission zeal that consumed her own life.
Two years later, however, at the wish of Arnold Janssen she did transfer to the adoration sisters. Once again she went down to the lowest rung of the ladder: she the co-foundress and first leader of the Mission Congregation became a novice and followed those whom she had formerly initiated into the first stages of religious life. But during her first year of novitiate, she fell earnestly sick. On January 31, 1900, on her deathbed, she took the vows as an adoration sister. Three days later, February 3, 1900, she died. Her last words were: "Jesus, I die for you." On May 7, 1995, she was "beatified" (called "Blessed") by the Church.